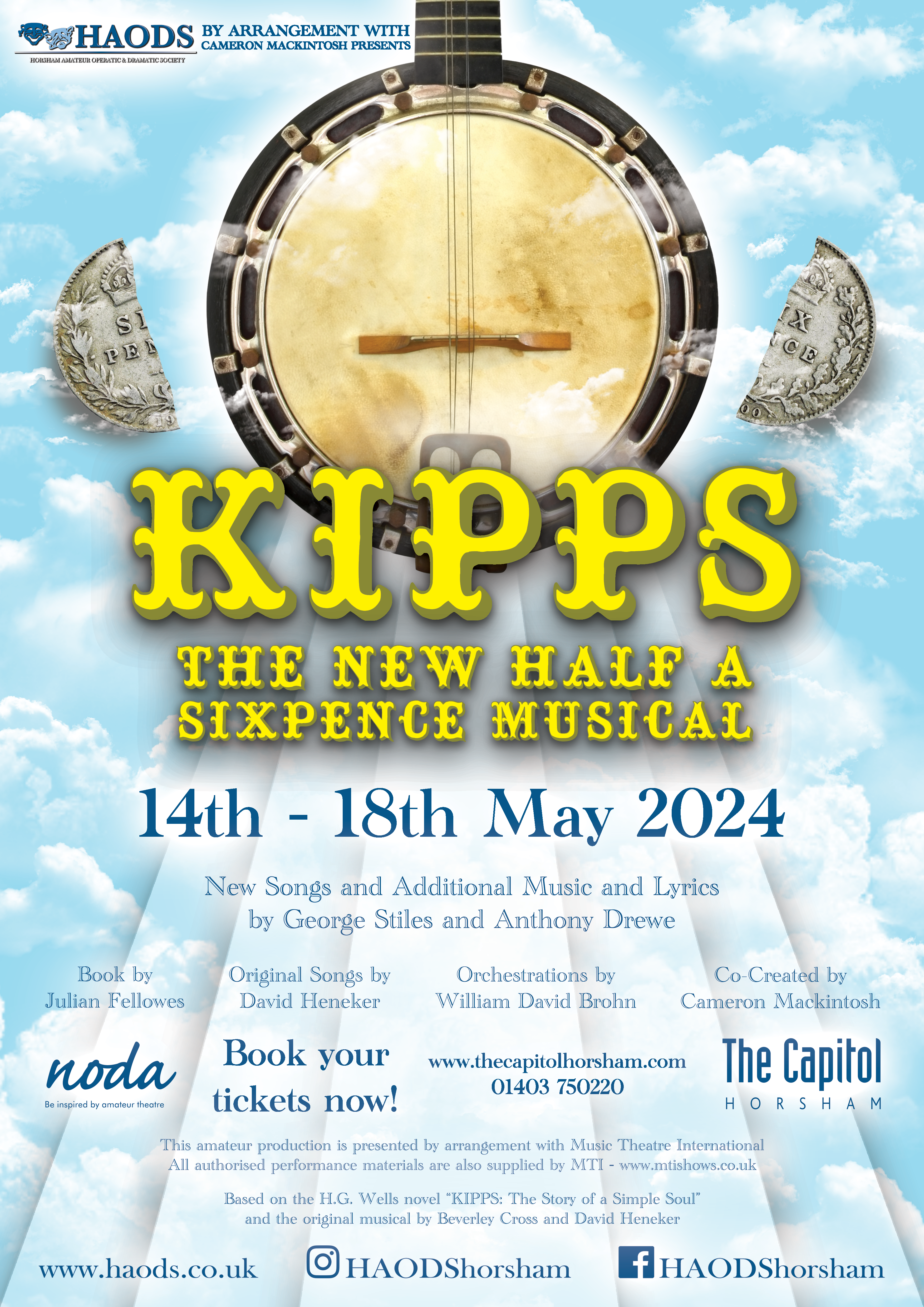 Kipps – The New Half A Sixpence Musical – May 2024
Show week: 14th – 18th May 2024 at The Capitol Theatre, Horsham
Background:
Kipps (the new Half A Sixpence) is a new musical adaptation of H.G. Wells' autobiographical novel Kipps: The Story of a Simple Soul.
With a revised libretto by Julian Fellowes and new songs, the musical tells the tale of the changing fortunes of Arthur Kipps, an orphan and draper's assistant at Shalford's Bazaar in Folkestone, Kent at the turn of the twentieth century. Kipps is an easy-going working-class lad, happiest with his banjo, however, when he unexpectedly inherits a fortune, he is suddenly propelled into high society. He falls in love with Helen Walsingham, however her money-grabbing family soon latch onto Kipps as a way to restore their family fortune.
His childhood sweetheart, Ann is forced to watch on as Helen attempts to transform Kipps into perfect husband material. Both young women undoubtedly love Kipps in their own way but by the time he makes up his mind which one he wants; it may be too late. When he loses his money (thanks to the fraudulent behaviour of Helen's brother, James), Kipps is reminded of his roots and where his heart truly lies.
Filled with lively characters and much-loved songs (Long Ago, Flash Bang Wallop, Pick out a simple Tune and of course Half a Sixpence), this is a feel good musical which will set your feet tapping.
CAST LIST:
Everyone that auditioned has made it into the cast and the Principal list is as follows:
ARTHUR KIPPS: Jonny Jones
ANN PORNICK: Cheryl Hacker
CHITTERLOW : Andrew Donovan
HELEN WALSINGHAM: Alicia Marson
MRS WALSINGHAM: Tess Kennedy
JAMES WALSINGHAM/PHOTOGRAPHER: Cameron Rowell
MR SHALFORD: David Johnson
SID PORNICK: George Long
PIERCE: Luke Moulange
BUGGINS: Steve Cronin
FLO EVANS: Chelsea Love
MS CARSHOTT: Kirsty Jones
LADY PUNNET: Roz Hall
Uncle Bert & Aunt Susan Kipps:
Mervyn Wakelin &
Lynn Andrews
Miss Ross
:
Caitlin Franks
Foster & Policeman:
Lawrence Smith
Mr Maxwell: Sam Willmer
Lady Dacre:
Rebecca Walker
Mrs Bindo-Botting:
Jane O'S
u
llivan
Congratulations to all, see you at your first rehearsal!